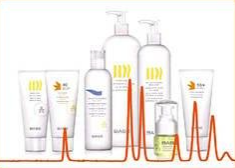 Abstract
Analysis of Cosmetic Products advises the reader from an analytical chemistry perspective on the choice of suitable analytical methods for production monitoring and quality control of cosmetic products. In the format of an easy-to-understand compendium of published literature on the subject, this book will enable people working in the cosmetic industry or in research laboratories to:
become familiar with the main legislative and analytical literature on this subject and
learn about and choose suitable analytical procedures for production monitoring and control of cosmetic products, according to their composition.
The first section of Analysis of Cosmetic Products covers various definitions and concepts relating to cosmetic products, current legislation in different countries and specific legislation on ingredients. The central body of the book addresses analytical methods for monitoring and quality control of cosmetic products with the fundamental objective being to enable reader's access to scientific reviews carried out by experts in analytical chemistry. The final section contains a small review of the alternative methods to using animals for cosmetic product evaluation.
Full reference:
A. Salvador, A. Chisvert, eds. Analysis of cosmetic products. Elsevier; 2007. ISBN: 978-0-444-52260-3